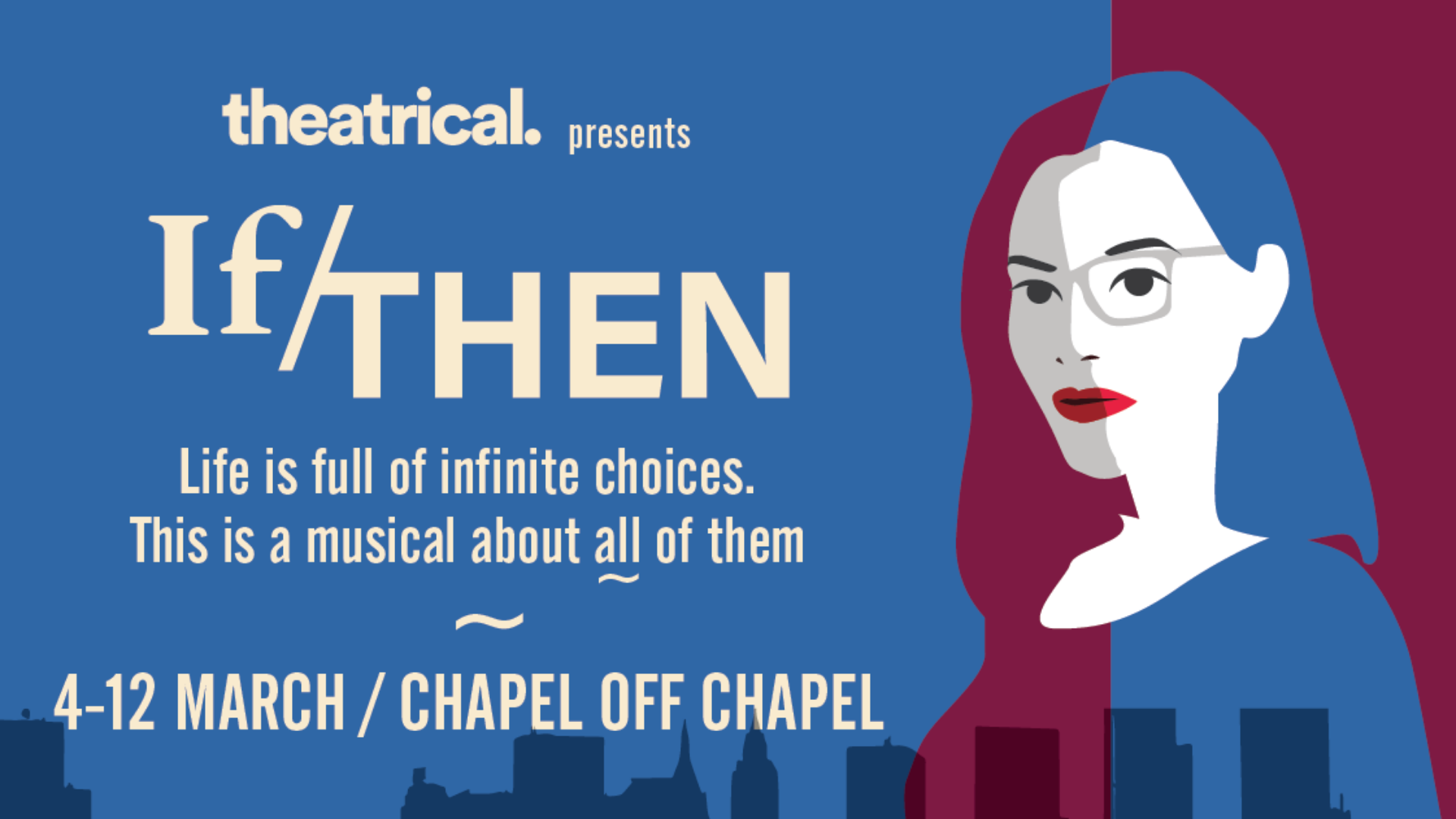 With unforgettable songs and a deeply moving story by the Pulitzer Prize- and Tony Award-winning creators of Next to Normal, If/THEN is a fascinating, ambitious and original new musical.
If/THEN simultaneously follows one woman's two possible life paths, painting a deeply moving portrait of the lives that we lead, as well as the lives that we might have led.
Elizabeth, a city planner, moves back to New York to restart her life in the city of infinite possibilities. When her carefully designed plans collide with the whims of fate, Elizabeth's life splits into two parallel paths. If/THEN follows both stories simultaneously, as this modern woman faces the intersection of choice and chance.
4-12 March 2022
Chapel Off Chapel, Prahran
~~~
Cast:
Elizabeth: Stacey-Louise Camilleri
Kate: Jade Bohni
Lucas: Rory Maher
Josh: Michael Gray
Stephen: Omar Moustafa
Anne: Romy McIlroy
David: Pasquale Bartalotta
Elena: Ag Johnson
Ensemble: Benjamin Lee, Daisy McCormick,
Tach Sutton
Creative Team:
Director: Liam Charleston
Musical Director: Vicki Quinn
Choreographer: Taylah Trew
Production Team:
Executive Producer: Andrew Gyopar
Production Assistants: Veronica Ward
If/THEN ran at Chapel Off Chapel from 4-12 March 2022.
Creatives
Music by Tom Kitt
Tom Kitt is the composer of Tony Award Nominated If/THEN. He also composed Next to Normal for which he received the 2010 Pulitzer Prize for Drama as well as two Tony Awards for Best Score and Best Orchestrations for Next to Normal. Next to Normal also received the Outer Critics Circle Award for Outstanding New Score. He is also the composer of High Fidelity (Broadway); Bring it On, The Musical (co-composer with Lin-Manuel Miranda, Broadway); Superhero (2nd Stage); Disney's Freaky Friday (Stage Production and Original Disney Channel Movie Musical); Dave (Arena Stage); The Winter's Tale, All's Well That Ends Well, and Cymbeline (The Public's NYSF); From Up Here and The Madrid (MTC); Orphans (Broadway) The Retributionists (Playwrights Horizons) and As You Like It  (Toho Co., Japan). As a music supervisor, arranger, and orchestrator, credits include Jagged Little Pill; SpongeBob Squarepants, The Musical (Tony Nom., Outer Critics Nom, Drama Desk Nom.); Head Over Heels; Grease Live!; Rise (NBC); and American Idiot. His work with Green Day also includes additional arrangements for their Grammy Award-winning album 21st Century Breakdown and their album trilogy, ¡Uno! ¡Dos! ¡Tré! Tom received an Emmy Award as co-writer (with Lin-Manuel Miranda) for the 2013 Tony Award opening number, Bigger. Other Television Songwriting credits include a musical episode of Royal Pains, and songs for Penny Dreadful, Sesame Street, and Julie's Greenroom. As a musical director, conductor, arranger and orchestrator, credits include the Pitch Perfect films, 2Cellos featuring Lang Lang (Live and Let Die), The Kennedy Center Honors, 13, Debbie Does Dallas, Everyday Rapture, Hair, Laugh Whore, Pippin (Deaf West), and These Paper Bullets. Upcoming projects include musical adaptations of the films Almost Famous, Magic Mike, and The Visitor.
Book & Lyrics by Brian Yorkey
Brian Yorkey received the 2010 Pulitzer Prize for Drama, as well as the 2009 Tony Award for Best Score, for Next to Normal. Brian is currently the Executive Producer and Showrunner of 13 Reasons Why for Netflix, Paramount Television and Anonymous Content.
Brian was also nominated for the Tony Award for Best Musical and Best Book of a Musical for Next to Normal, and his work on the show earned him the Outer Critics Circle Award for Best Score. He partnered again with the Next to Normal team on If/THEN (Tony Award Nominee for Best Score) starring Idina Menzel. Brian co-wrote the libretto for The Last Ship (Outer Critic's Nomination, with John Logan), with a score by Sting. His musical adaptation of Freaky Friday for Disney Theatricals enjoyed a National Tour before being adapted into a Disney Channel Original Movie. Current theatrical projects in development include the original musical Jesus in My Bedroom, with composer Tim Symons, as well as stage musical adaptation of Magic Mike.
Additional theatre credits include Making Tracks, which has played off-Broadway and regionally, the musical adaptation of Ang Lee's The Wedding Banquet and the play, Book of Jobs with Alex Glover. Brian has directed off-Broadway and regionally and for seven years was associate artistic director at Village Theatre in Washington state, one of the nation's leading producers of new musicals.
He's a graduate of Columbia University, where he was artistic director of the Varsity Show, an alum of the BMI/Lehman Engel Musical Theatre Workshop and a proud member of the Dramatists Guild and the WGA.